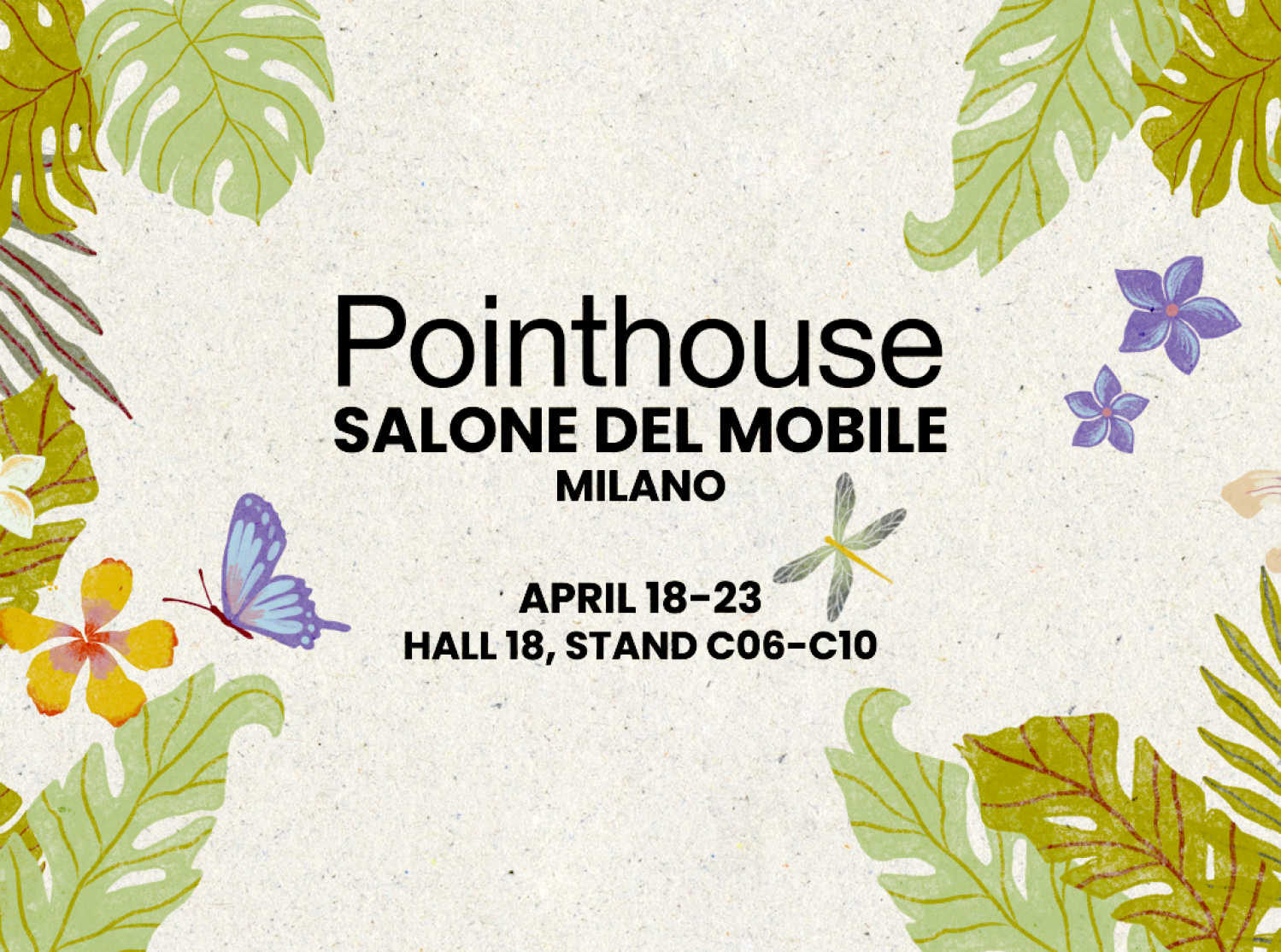 POINTHOUSE FOR THE PLANET
Pointhouse for the planet: a few simple words for a powerful message.
Pointhouse is firmly committed to striving, year after year, for the ever-more efficient and cutting-edge quality of its products and production system.
We analyse our business processes every day in pursuit of this objective, to make them increasingly sustainable and profitable. The concept of sustainability we promote is reflected not only in our production techniques, but also in the environment, social issues, and people: We care for the planet and are committed to progressively reducing our environmental impact, welcoming and implementing the initiatives promoted by our in-house "Green hands" work group, every year.
We also believe that behind every product of excellence lie people who work in a calm, safe and comfortable environment, which is why in addition to protecting their health and safety, we also offer comfort and relaxation zones both inside and outside our production areas. As such, we give our employees the chance to switch off and relax, but most importantly, the possibility to strengthen their interpersonal relations in the workplace, which in turn improves and adds value to their work as a team.
As proof of our commitment to these issues, it is with pride and pleasure that we share our ISO9001, ISO28000 and AEO certifications, demonstrating our ongoing commitment to the safety of our supply chain, quality of our products, and company culture.
A further strength is the relationship we establish with clients in terms of both communication and from a social perspective. We carefully study our products and marketing campaigns with the aim of conveying important messages that go beyond the product's technical specifications, communicating our stance on various social issues such as women and their resourcefulness.
A SPECIAL "TIPA"
Tipa is a chair created with the aim of conveying strength and uniqueness through a simple and original design. Featuring bold lines and available in a range of colours, with or without armrests and cushion, the Tipa chair is loaded with incredible versatility making it adaptable to indoor, outdoor, formal and informal settings! It's not surprising that we chose to promote these values of energy and flexibility by actively involving women in our campaign. We gave voice to "special types of women" whose resourcefulness serves as an example of resilience and perseverance for everyone. Domitilla Quadrelli Leoni is a woman who has seen it all, from the high-end fashion industry to factory work, and we recognised in her the same versatility that we see in our Tipa chair.
Micaela Miljan Savoldelli, on the other hand, is an exceptional woman who has made life choices requiring strength and determination: uprooted their lives in Florence to embark on a long and intense journey to discover the world with the whole family.
Licia Fertz, Italy's most elderly influencer, is another example of a woman who wears individuality flawlessly. Licia responded to the inevitable passing of time by accepting her age as a magnificent and valuable gift for which she is thankful. Every day, this remarkable woman launches positive messages of acceptance and fortitude through her personal blog "Buongiorno Nonna" (Good Morning Grandma).
These are just three examples of the incredible women whose lives and experiences inspired the design of our Tipa chair.
POINTHOUSE AND IKA JANE: beyond our borders
Our "A special type" campaign gave us the chance to learn more about Micaela and her fantastic universe. After travelling the world for years without a stable home, Micaela finally decided to settle with her family in Bali, where she founded her Ika Jane clothing brand. Featuring entirely hand-sewn garments made by Balinese women in line with the highest standards of sustainability, we saw an opportunity in Ika Jane to explore new experiences and new modes of expression. We firmly believe that culture, in its various contexts, is the genuine bringer of change, which is why we are committed to promoting collective and social initiatives on both a local and international scale. Thus, Ikajane x Pointhouse was born, an exclusive collaboration that led to our Tipa chairs being dressed in the most unique and original cushions. Made from natural materials and using print technologies that minimise fabric and water waste, the cushions in this new collection are decorated with floral embroidery and fruity prints that take us back to the wonderful world of Bali, adding a splash of exotic charm to our homes.
POINTHOUSE STAND
Pointhouse will bring unprecedented innovation and energy to this year's Salone del Mobile. We have rethought the concept of space with the aim of guiding the client through a multisensory experience involving sight, touch and more! The lighting and product placement have been carefully studied to create a more engaging and suggestive atmosphere. As you step foot inside our stand, not only will you be captivated by the fresh colours enlivening and enhancing the quality of the different spaces, but you will also be amazed by the textures and unique surfaces characterising our display. We have always designed our products with a view to experiencing and savouring modern life, and this year we have added some new colours to the mix to send out positive and energising vibes, improving personal well-being and making the spaces they are in feel even better.
Our stand, aptly called "Pointhouse for the planet", is studded with elements recalling the importance of protecting the environment and prompting a reflection on the current social issues to which we have always been committed. One of the things that will certainly capture visitors' attention are the three trees, which at the end of the Salone del Mobile will become part of our company grove: the Bosket! What's more, in an effort to give clients an all-round experience, we have set up an exhibition on the main social themes addressed by Pointhouse for the important launch of its products. Visitors will be intrigued by the female figures who have given voice to our "A special TIPA" campaign, and tantalised by the original Ikajane X Pointhouse collaboration that has made our chair even more versatile.
Among the numerous products on display for you to test, our renowned tAtA chair is a must-see along with the "Tata for the planet" version, nominated by the ADI Design Index to compete for the prestigious Compasso d'Oro award. Even Diamante, Otto and Ovo table will be upgraded with new features and dimensions.
The Combo table is this year's novelty, which thanks to the round leg and possibility to match the end piece with our range of polypropylene colours, is the perfect pairing for the Tata young chair.
Careful planning has gone into optimising the available space, which includes a valuable display area for the home and contract collections, as well as an area set aside for client meetings.
You can find us in hall 18 in a larger stand than past years (C06-C10). See you there!
NEW PRODUCTS
NEW DIAMANTE
One of our best-sellers is re-proposed in a new version which, although preserving its iconic elegance, is now even more versatile and adaptable to different spaces: New Diamante! This legendary product that could previously extend up to 2.40 metres in length, will be launched this year with even larger dimensions and the possibility to reach up to 3 metres long!
To offer a product able to reach this size – with the extensions and fixed top combined – a design process was involved that focused mainly on the capacity and stability of the table. By restyling the metal section and making it thicker, the structure and top were made more solid, thus making it possible to achieve larger dimensions.
New Diamante is an example of the successful study and development of a design: after more than 10 years on the market, this table continues to be a stable, timeless product.
OTTO
The Otto table, presented for the first time in 2021, further expands its possible range of sizes, introducing the new 160x90 version. Right from the outset, Otto was designed with the idea of proposing a table with clean lines and high technological value. That's why we decided to leave the opening system, which uses disappearing guides, and its safe coupling system unchanged.
OVO FAMILY
The Ovo collection is completed with tables of various sizes and heights. From this year in fact, it can also be purchased in the 90cm or 110cm version. Moreover, the round version is available with a diameter of up to 140cm, maintaining a height of 76cm. The Ovo table, which is also available in a square version, retains its primary design element: the central column with flat circular base, featuring a single Pointhouse branded ring available in three different colours. This characteristic, along with the possibility to combine different sizes and materials for the top, makes Ovo a versatile table that can be adapted to any setting, whether residential or contract. This product can in fact be paired with different types of chairs and incorporated into any space, offering a large and comfortable surface to work on, read, or eat.
COMBO
The COMBO table is the big novelty launched on the market by Pointhouse this year, which was immediately met with great success. Its name, COMBO, perfectly describes the concept behind its development, that is, to create a table in combination with the Tata Young chair. This perfect pairing is linked by two common elements: the end piece and round shape of the legs. In fact, just like the chairs, Combo comes with techno polymer feet that define the end part of the painted steel legs. Featuring a die-cast aluminium corner joint and steel frame, every Combo table can be extended up to 180cm and is available in a range of colours obtained by epoxy powder coating.
This table's versatile features will satisfy are such that it also appeals to a younger and more dynamic audience. Combo combines colourful details and shapes with one of our best-loved chairs, thus adapting to a range of different personalities and injecting life into any setting.
TATA FOR THE PLANET
Another star we proudly display at Salone del Mobile is our much-loved Tata chair in the exclusive "Tata for the planet" version. This product was designed by "Green Hands", a work group made up by in-house designers responsible for proposing environmentally sustainable initiatives. We have always pursued and showcased our ideals of respect and care for the environment, but this time we take steps further so by designing a chair that gives new life to waste material. Tata for the planet is in fact distinguished by its special upholstery made from recycled mattresses, which once shredded and carefully processed, give rise to a comfortable and soft seat.
We wanted to highlight this chair with its unique features, which was also selected by the ADI DESIGN INDEX, by placing it on a platform alongside a tree. The proximity of these two elements seeks to convey our ongoing commitment and interest in creating sustainable products that respect our planet, hence the name, "Tata for the planet". To further emphasise this concept, we also decided to "undress" this chair, displaying it at the exhibition with the upholstery open. This gives all our clients the chance to admire the care and attention we invested in selecting the materials and how they are processed. Tata for the planet, which began as an internal exercise, is an example of efficient analysis, design and production that are and will continue to be the cornerstones of our approach to creating all products of the future.